The setlist for the BTS World Tour: Love Yourself seems fairly settled now – and as they really have to rehearse and prepare everything, it's likely it's going to stay mostly the same for the rest of the tour.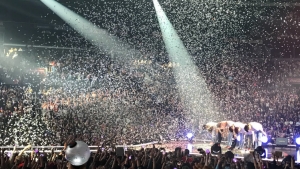 So, to help out any of you lucky people going (and also because it's fun to do), we're going to link up all the songs with fan chants to the BTS fanchant page on our site. Each of the underlined songs down below in the list links to our fanchant page for that song.
The only song with an official fanchant that we haven't done is Answer: Love Myself and we'll be adding that this week. We've seen some unoffcial fanchants for Trivia: Seesaw – we're not sure whether or not to add that – hit us up on Twitter to let us know what you think.
---
Setlist for the BTS Love Yourself Tour with fanchants and lyrics
Main concert
---
Check out more of our BTS blog posts or hit us up on Twitter (@btsfanchants) if you've got something interesting to share!